We want people of all ages to enjoy themselves while skating!
We're a family-owned and operated roller skating rink serving third and fourth-generation families in Rocky Mount. Vernon and Pauline Holder built and opened Sky-Vue Skateland to huge crowds and a great fanfare in September 1958. It was their dream project to provide the citizens of Rocky Mount and the surrounding communities with wholesome, family fun. The tradition continues today as their children and second-generation owners, David Holder and Denise Watkins, carry the torch for the local icon.
The rink features an original hardwood skating surface, fleet of rental skates, audio sound and light show, concessions, redemption games, retail novelty, and pro shop sales. Sky-Vue Skateland specializes in public skating, birthday party celebrations, school events, community events, group and organization outings, fundraisers, and all new, innovative STEM education field trips for schools and youth organizations.
Whether you are looking for a birthday party or a relaxing night out with the whole family, you'll love Sky-Vue Skateland. We have over 30 years of experience in teaching beginners how to roller skate. Roller skating is a lifelong activity, providing health benefits for all ages. Come skate with us today! We can teach you how to skate.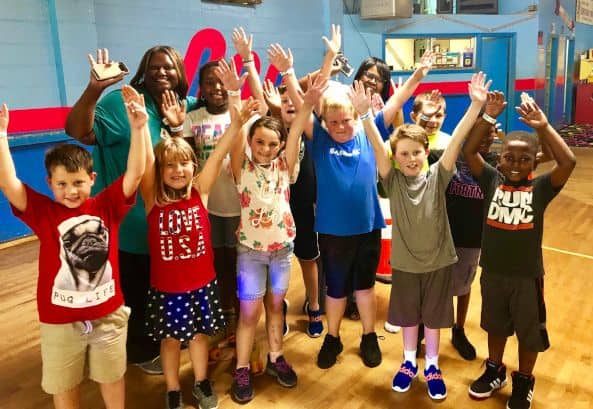 THE TAR HEEL TRAVELER VISITed SKY-VUE SKATELAND
Scott Mason, Wral's Tar Heel Traveler, took a step back in time with a visit to Sky-Vue Skateland. Read More.
Press Release
Sky-Vue Skateland Celebrates a Successful Year of Roller Skating STEM Field Trips for Schools
Sky-Vue Skateland, a leading provider of STEM field trips, is thrilled to announce the successful completion of its 2022/2023 school year, culminating in a highly fruitful year of learning and fun for students across eastern North Carolina. Read the full PRESS RELEASE.