A New Year and More Skating at Sky-Vue Skateland
All the team members of Sky-Vue Skateland want to wish our families a Happy and Prosperous New Year. We trust 2022 will be a great year for making fun and fabulous memories to be treasured for a lifetime.
January 1 No Skate & Play 6 & Younger
We decided to cancel January's Skate & Play because many folks may have celebrated New Year's Eve and getting up early is too difficult. Our next Skate & Play will be February 5, 10 am until 12 noon.
January 2 Open Sunday afternoons 2:00-4:00 pm
We add our Sunday afternoon session for the months of January, February, and March. When it's cold outside folks are looking for things to do. Get out of the house, get active, and have some fun. Admission is $7 and skate rental is $4. We can teach you how to skate. Do you have a small group that would enjoy this activity as a social outing? Call Denise at 252-442-7418 for details.
January 6 & 20 Adult Skate Night 7:00-9:00 pm
We offer an Adult Skate Night on February 6 & 20. Ages 18 and over are welcome to come skate the night away with us. Admission is $8 and skate rental is $4. Start a new resolution to improve your health and fitness. Skating is fun and fitness is rolled into one!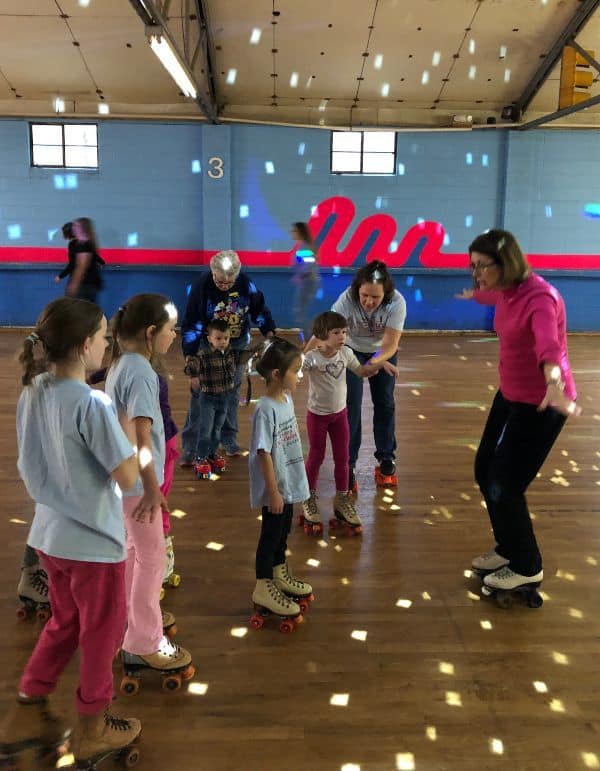 January 17 Martin Luther King, Jr. Holiday Skate
School is out so we are skating. We're open 1:00-4:00 pm. Admission is $8 and skate rental is $4. Join the fun and games we have scheduled for this special session.
Now booking February Birthday parties.
All of our birthday celebrations are now private events. No need to have everyone over to the house. Our birthday celebrations are kid-tested and Mom approved. Book yours today.