Looking for exciting events in June 2023 that both kids and adults can enjoy?
School is ending and summer is beginning. We hope the entire family will add more skating to their schedule this summer. Roller skating is fitness disguised as fun. Put down the devices, get off the couch, lace up your skates, and let's roll around the skating rink.
Check out these family-friendly activities and events happening this month:
June 2: Hoverboard Session
Bring your hoverboard fully charged for an hour of hovering fun. Doors open at 5:55 pm. We'll have hover, games, and races for the hour. Admission is $10. Admission for hover and skating is $20.
June 2 & 3: Celebrate School is Out and Summer is here!
It's our 2-for-1 weekend again. Let's skate 2 nights for the price of 1. Your paid admission on Friday night covers your Saturday night admission too. Skate rental is extra.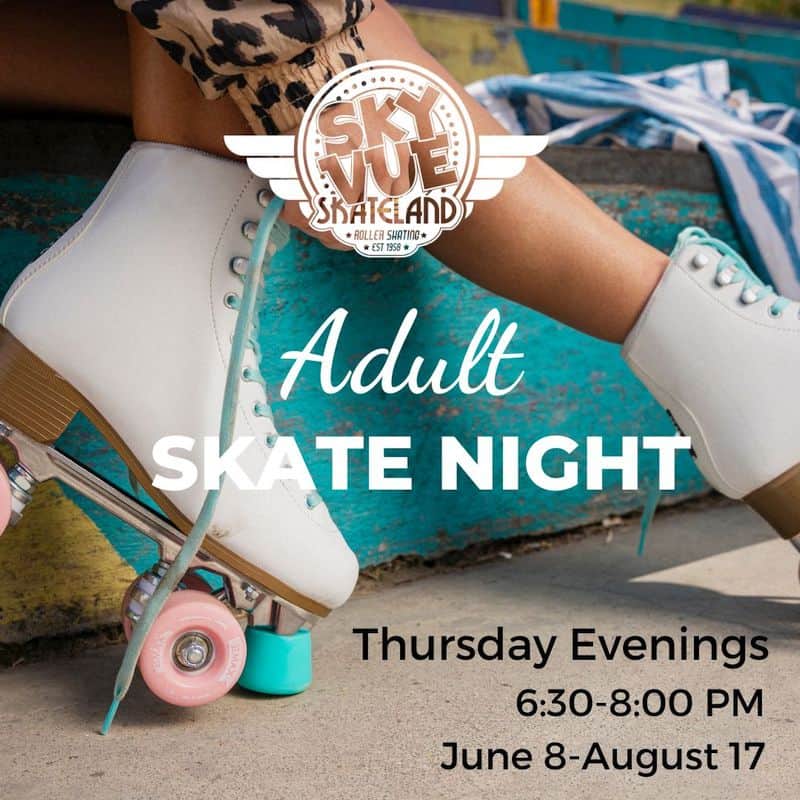 BREAKING NEWS!
June 8 – August 17: Adult Skate Night
New Adult Skate Night, Thursday evenings beginning June 8 from 6:30 to 8:00 PM. Admission is $8, skate rental is $4.
Lace up and let's skate for exercise, socialize with friends, or get out of the house. Enjoy an hour and a half of skating to great music. Reach out to all of your rink friends and plan to skate again.
June 8: Let's Learn to Skate
Our Thursday afternoon sessions begin June 8. We'll open at 1:00 pm and provide a learn-to-skate lesson at 1:30 pm. We'll offer this session for 10 weeks in the summer. If children skate weekly during the summer, they will become proficient in their skating skills. Keep the learning going during the summer. Let them achieve a new skill.
Daycares and small groups are welcome to attend. Please call Denise at 252-442-7418 to reserve your spot.
June 16 & 17: Celebrate Dad
Calling all Dads! Come celebrate with us on Friday and Saturday evenings! Join the fun as we honor fathers with free skating with their child's paid admission.
Dads, don't miss out on this opportunity to enjoy some quality time with your kids. Moms are invited too!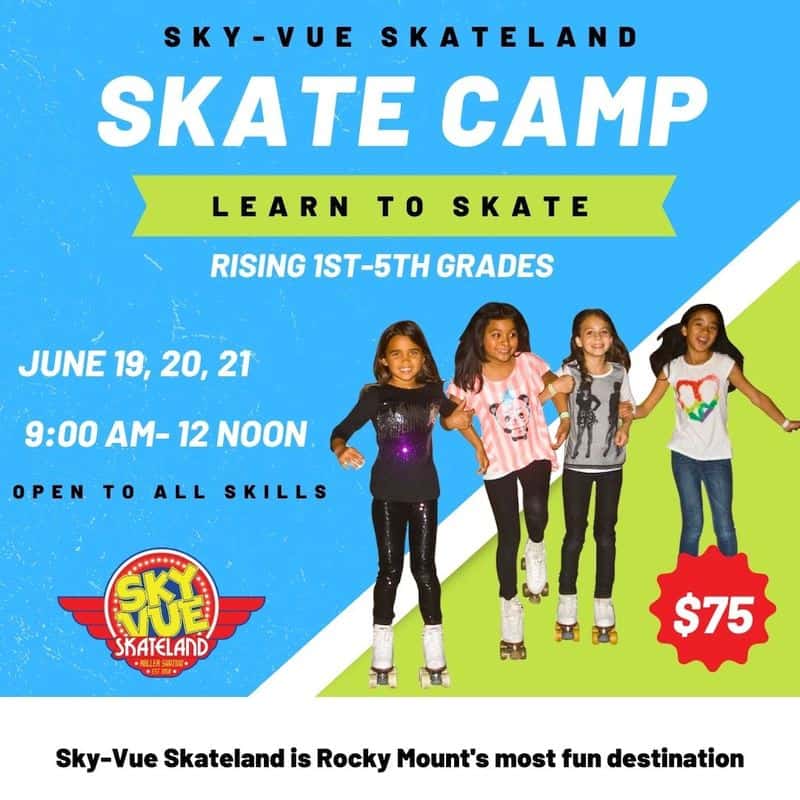 June 19-21: Sky-Vue Skate Camp
We are excited about the opportunity to teach more children how to skate. Skating has gained immense popularity, and children are eager to learn. By providing a consistent skating experience, children will develop the necessary techniques. As they master their balance, their confidence in skating grows. It's not uncommon for us to hear them say, "Today, I learned how to skate!"
Sky-Vue Skateland's doors open daily at 8:45, so we can begin at 9 am sharp. Pre-registration is requested.
Summer Hours:
June 8 – August 17
Thursdays 1:00-3:30 PM
Thursday 6:30-8:00 PM (Adults Only)
Friday 7-10 PM
Saturday 7-10 PM
We love to celebrate Birthdays!
Check out our party plans!
---
Save the date
September 17, 2023
2:00-5:00 PM
Sky-Vue Skateland's 65th Anniversary
---