If you haven't noticed, roller skating is very popular currently.
It's trending in social media, television, apparel, and the news. Roller skating is a favorite pastime shared by generations, with memories shared repeatedly. When friends reunite, skating memories are often discussed as some of the best times of their childhood.
Sky-Vue Skateland is blessed with third and fourth generations skating with us today. Your support and recommendations help keep our business open for skating. We'll celebrate our 65th birthday in September 2023. Plans are in the works for a fun celebration. Stay tuned for more information coming soon.
March Events at Sky-Vue
Skate & Play March 4, 2023
We host a monthly Skate & Play for ages eight and younger. Parents and grandparents bring the young ones to enjoy our skating surface. We offer skating and ride-on toys along with games and activities. Doors open at 9:55 am for 2 hours of nonstop fun.
Learn to Skate March 4 through March 25
Learning to skate is not difficult. We teach a four-week class beginning the first Saturday of the month. Doors open at 12:45 for you to lace up and warm up. Our lesson begins at 1:00 pm. You'll receive instruction until 1:25. Your class fee covers the admission for skating during the 1:30-3:30 skating session. It's a great session to practice what you just learned. Remember, continuity builds confidence.
St. Patrick's Day March 17, 2023
Join us for skating on Friday evening for St Patrick's Day. Wear a green shirt and receive a special admission of $10.00. It must be a green shirt, not a speck of green.
Hoverboard Session Friday, Mar 31, 2023
Do you have a hoverboard? We'll have a one-hour session for hoverboarders to enjoy riding on our skating surface. 6:00-7:00 PM. It's bring your own hoverboard for $10 admission. Be sure to be fully charged before coming to the rink. We'll play some games to make it interesting. Admission for both sessions: hoverboard and skating, is $20. Skate rental is extra.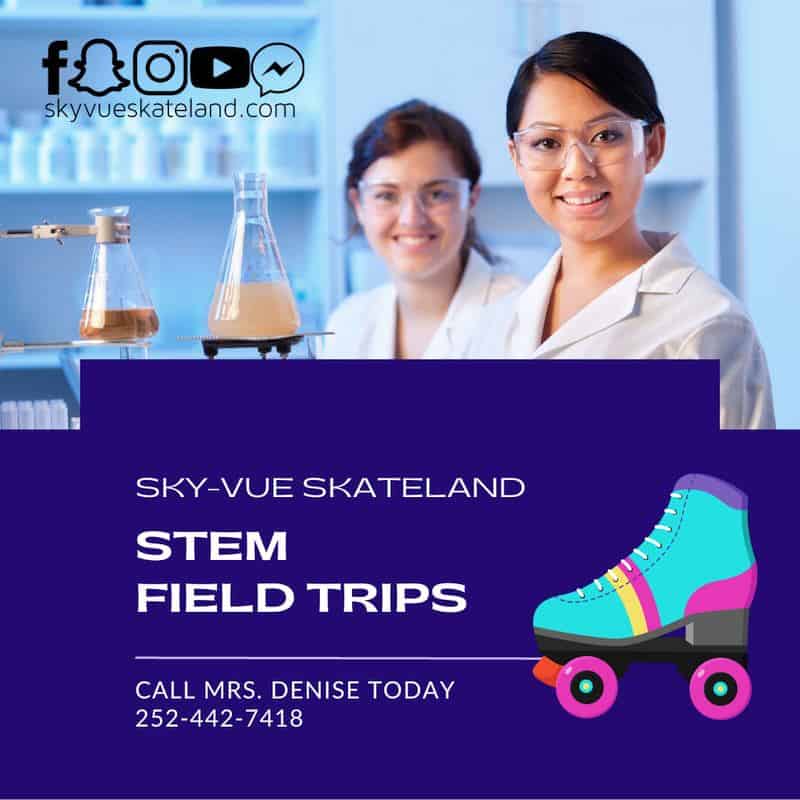 Attention Schools:
We have a few dates open for our STEM field trip. Email denise@skyvueskateland to learn more. Let's celebrate the end of the school year with a roller skating party! We offer private daytime rentals for schools to bring students skating with us. Students who earn PBIS rewards love to go skating! Let's book your school today.
We Sell Skates
Purchase a pair of skates from us before April 15, 2023, and we'll enter your name in our drawing for a 30-day admission pass for skating. Everyone loves to own a pair of skates. We are the skate experts. Let us fit you for a pair today. We service what we sell.
Summer is coming
Summer and skating go together. Did you know many young people learn to skate over the summer by visiting the rink weekly? The weekly continuity of skating allows youth to learn the skills and gain the confidence to skate. We welcome groups of any size to book skating times with us. More to come about our Best Summer Ever promotion. Don't miss it!
Skate with us this weekend. We can teach you how to skate.