Yes, it is! Meet Michael Cole Jordan.
Michael is eleven years old and has had CFD (Congenital Femoral Deficiency) since birth. He enjoys skating as much as any other tween. His right leg is 10cm shorter than his left leg.
How did Michael's Skating Journey Begin?
Michael is a third-generation skater at Sky-Vue Skateland. His mother, Beth Hux Jordan, introduced Michael to roller skating about the age of 7 when he had a foot-on-foot prosthesis that compensated for the difference in the length of his legs. Mr. David tightened the wheels on his skates the first few times he skated. Beth would hold his hand to assist with his balance allowing him to roll around the skating floor.
Upon developing his balance, Michael graduated to using a skate mate. This device that assists beginning skaters enabled him to skate solo. At first, he took a few falls but quickly learned how to maintain his balance once again.
Meet Dr. Dror Paley, MD
Michael's mother looked for other options rather than settling to have his leg amputated and fitted with a prosthetic leg and foot. She sought out the best option for Michael and consulted with Dr. Dror Paley.
Dr. Paley is the founder of The Paley Orthopedic & Spine Institute in West Palm Beach, Florida. He and his team of doctors treat patients from all over the world. They provide solutions for patients needing amputation/prosthetic limbs with reconstructive techniques. Dr. Paley has developed over 100 operative procedures for bone and soft tissue reconstruction.
The Early Years of Lengthening MICHAEL's Leg
Through examining Michael, Dr. Paley determined Michael had enough hip which made him a candidate for the leg-lengthening procedure, rather than having his leg amputated. Michael's surgeries for extending his leg began at the age of 3 with the super hip and knee surgery.
The Skate Extension
A discussion began between Michael's family and Mrs. Denise and Mr. David about getting Michael a pair of skates. His skates would require a custom build that would compensate for the 10cm difference in the length of Michael's leg.
Michael's Uncle, Scott Rose, is a Supervisor at a local machine shop. He said, "I could fabricate an extension from a solid block of aluminum and attach it to Michael's skate boot to compensate for the difference in his legs." Scott attached the skate plate to the extension and then the attachment to the actual skate boot. Voila! Success.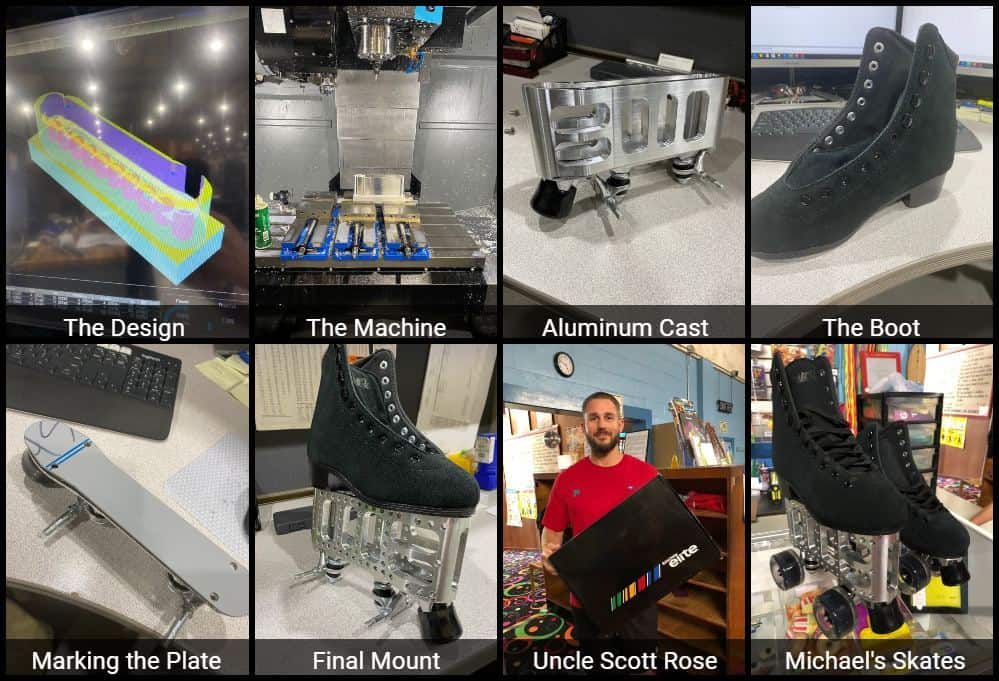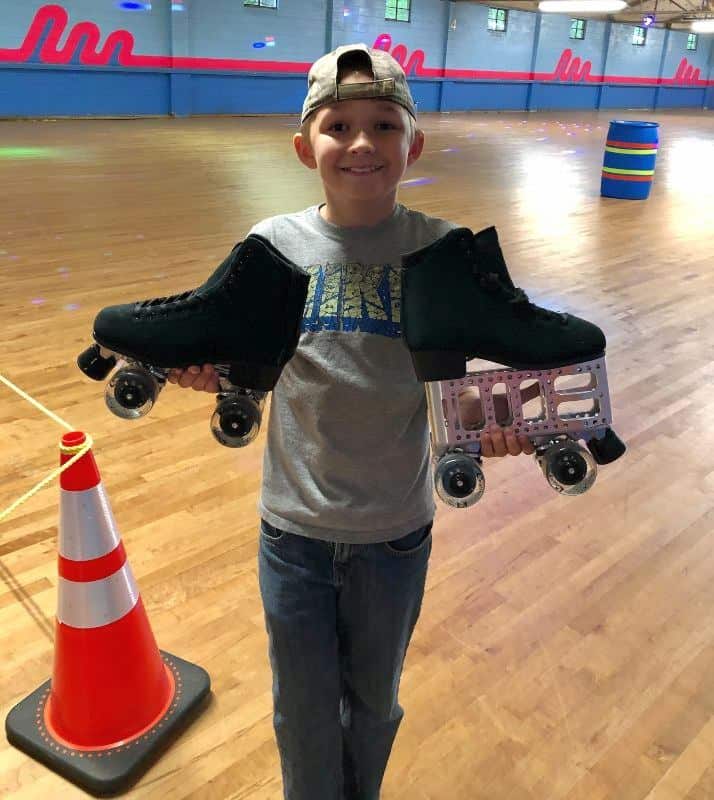 The Day of Truth
Michael's Grandmother, Laura Hux, accompanied Michael at his appointment with Dr. Paley. Anticipation was high to see what Dr. Paley would think of Michael's new pair of custom roller skates.
Dr. Paley's first question was, "can Michael roller skate?" Laura's response was, " oh, yes, he can." Next, he checked the skates to determine if the weight of the skates would be manageable for Michael.
Dr. Paley gave his approval of the new skates and said it would be great for muscle development for Michael.
Michael's Future
Michael is happy to have his pair of roller skates. He currently skates very well. Watch the video to see the games he participates in when he goes skating. Laura says Michael will have three more surgeries. They hope to gain 5cm of the lengthened leg with each surgery. Physical therapy is required daily for about ten weeks after surgery, with recovery time covering about 11 months.
What's the Take-Away?
Michael is a determined young fellow who doesn't allow his disability to stop him. Like any other tween, he wants to fit in and be like his peers. Today's society places worth on beauty and intelligence. Many of our youth fall short of this standard. Roller skating fills the gap for many to help them feel accomplished. They can develop superior skating skills in a short time. When they are rolling around the skating floor with their peers, they are self-confident
Come skating with us, and let us teach you how to skate.
Sky-Vue Skateland is a local skating rink serving the Rocky Mount, NC area since 1958. Denise Watkins and David Holder are second-generation owners/operators. They provide recreational skating for tweens, teens, and families in a fun and safe setting. They are certified SRSTA skating instructors.