Scott Mason, Wral's Tar heel Traveler, took a step back in Time with his visit to Sky-Vue Skateland in Rocky Mount, NC!
During the Friday evening skating session on January 29, 2021, Denise Watkins and David Holder, owner/operators of Sky-Vue Skateland, welcomed Mr. Scott Mason of WRAL's Tar Heel Traveler.
Scott Mason was able to experience the fun family entertainment in our landmark roller skating rink. As Mr. Mason inquired about the skating rink's history he noted that Sky-Vue was not just a step back in time but a "long smooth roll!"
Scott Mason is acknowledged as a master storyteller.
He has traveled from Murphy to Manteo covering the entire state of North Carolina, to share the stories of interesting people, unique places of business, as well as points of historical interest. We are honored he chose to include Sky-Vue Skateland in his journeys.
Mrs. Denise announced the Tarheel Traveler visit via social media and encouraged family and friends to meet and greet Scott Mason. Many skaters of all ages attended the evening session to be a part of this exciting event!
Mr. Scott Mason:
Scott Mason joined the WRAL TV staff in April 1997. 'Traveling the state to create these stories is the best job at the station', said Mr. Mason. He is an active hockey skater and shares with Mrs. Denise he participates in a weekly ice hockey game in Raleigh.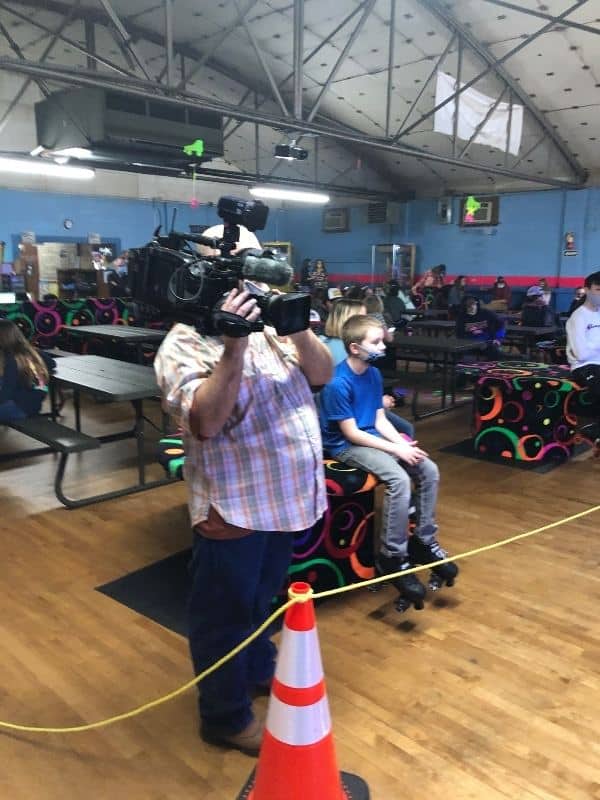 Mr. Robert Meikle
Mr. Meikle accompanied Mr. Mason as his photographer. He shared he skated in his youth at Sunset Skating Center in Wilmington, NC. Did you notice all the great videos he captured? He walked among the skaters to capture action shots for the story.
Personal Interviews
The Tar Heel Traveler visit started at about 6:15 pm with Scott interviewing Denise and David. He seemed most intrigued by the history of Sky-Vue Skateland's 62-year span of the business. Questions ranged from the early days to the present day. Changes in the business were discussed such as the evolution of roller skates over time from the loose ball bearing wheels to precision wheels and the obvious entry of rollerblades.
Talking with the Skaters
As Mr. Meikle captured the video, Mr. Mason mingled among the skaters asking questions about the rink. Some skaters approached Mr. Mason because they knew of his popularity from the show.
Everyone seemed to be proud to have The Tar Heel Traveler at their favorite skating rink. The next question was when will it be aired on TV? You can view the entire Sky-Vue Skateland Tarheel Traveler segment by watching the video embedded on this page (courtesy of WRAL).
Good to Know
Sky-Vue Skateland is open for public skating sessions on Friday and Saturday evenings, 7:00-10:00 pm, Saturday afternoons, 1:00-3:30 pm and Sunday afternoons, 2:00-4:30 pm.
Make a date to skate this weekend. Mrs. Denise can teach you how to skate!