We Need Your Support to Continue Our Legacy
We suspended our skating sessions beginning in February 2022 because our skating surface needed repair. While examining the support system we also found an issue with moisture in the crawl space. Therefore, we have 2 issues that need to be resolved to reopen for skating.
A contractor and a plan have been secured for the repair. The hurdle is the cost of $150,000.00! That amount, unfortunately, is far outside of our budget and too much for us to consider a loan.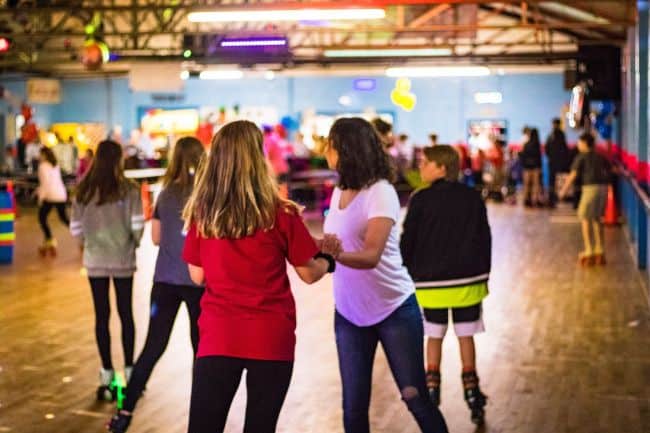 Crowdfunding Campaign
Because many of you suggested we do fundraising and offered to contribute, we created a crowdfunding campaign to receive donations. We need families, friends, businesses, churches, organizations, and supporters to make a financial contribution, share our story with others, and help us to reopen as soon as possible.
Give Send Go is a Christian crowdfunding platform we chose to assist us with this campaign. They pass 100% of the funds to the campaign and do not charge a fee for their service.
Our campaign may be found online at www.givesendgo.com/skyvueskateland.
Any amount is appreciated. They allow donations beginning at $5.00.
We set gift levels for contribution amounts as follows:
$5
Donations of any amount are accepted beginning at $5.
$100
Receive one-year membership which gives you one free admission each month for 1 year, for 1 person.
$250
Receive two one-year memberships give you one free admission each month for 1 year, for 2 different people.
$500
Receive four one-year memberships and a Skate Party Pack for 4. Our Skate Party Pack includes admission and skate rental for 4 people to any skating session. We'll also provide a whole pizza and a round of drinks.
$1,000
Receive four one-year memberships and a 2-hour Private Skate Session for up to 40 guests.
$5,000
Become a Legacy Donor. A special plaque will be on display at the rink with the names of donors who contribute this amount because they believe in our
legacy.
You can also make Private Donations by Check
Some of you may be more comfortable writing a check than donating online. Please mail your contribution to Sky-Vue Skateland, 11056 US 64 Alt W. Rocky Mount, NC 27801.
Help us make this fundraising drive successful by asking 3 of your family or friends to participate.
Maybe your employer would support us if you ask them. Any size donation is appreciated. Please share our campaign on your Facebook page. We will keep our Facebook and Instagram pages updated with the progress. Help us create excitement about this campaign.
We are hoping others will assist us with this huge project. Help us get the word out. Parents can share a letter (information outlined) with your contacts, family and friends, businesses you know, and your church. Please contact Mrs. Denise at 252-442-7418, if you want to help her. She can supply you with the letter.
We look forward to reopening for skating as quickly as possible. Our contractor is ready to start and estimates it will take 8 weeks to complete. The sooner the funds come in the faster we can get started.
We are planning to have a grand reopening event to celebrate this victory. You are invited!
Thank you so much for your support.