Bring on the fun for November 2022 at Sky-Vue Skateland
November is here and so is the end of 2022. The months and weeks are rolling by faster and faster.
As the holidays approach and our calendar becomes crowded, don't neglect time for you and your family. We all need time together doing something fun. Remember roller skating!
Learn to Skate Classes
Do you have a child who would like to learn to skate? Or would you like to improve your skating skills? Join our Learn to Skate 4-Week Challenge. The next class session begins Saturday, November 5. To learn more and register online, visit https://skyvueskateland.com/learn-to-roller-skate/
Skate & Play Ages 6 & Younger
Bring the littles out for our Skate & Play Ages 6 & Younger. We offer a fun experience for younger children to explore our skating surface with ride-on toys, roller skates, scooters, bouncy balls, and fun activities. It happens the first Saturday morning of the month, from 10 am until 12 noon. November 5, 2022. We limit the age to 6 & younger.
2 for 1 Weekend
Our monthly 2-for-1 weekend is scheduled for November 4/5. Your paid admission on Friday night allows you to return Saturday night for free admission. Two nights of skating for the price of one! Skate rental is extra.
Veterans Day
In honor of Veterans Day, November 11, Veterans and Active Duty Service Members receive Free Admission all weekend. We thank you for serving our country. Your faithful service secures our freedom.
Thankful Tuesday
Thanksgiving is extra special for us this year. We are thankful for our skating friends and community who supported our fundraising campaign for our floor repair. In honor of your support, join us on Tuesday evening, November 22, for our Thankful Skating Session, 7:00-9:00 pm. Admission and skate rental $8.
Shop Small Saturday
You help keep our communities vibrant by supporting locally owned small businesses. Shop Small Saturday, November 26, is an annual campaign to support small businesses in communities all across the US. It's an opportunity for consumers to show extra love to their local small businesses.
If you're a frequent skater at Sky-Vue Skateland you will like our offer of a special Admission Pass for this one-day celebration. You may purchase this special discounted pass on Saturday, November 26. The evening 10-session pass is $99.00 and 10 session pass for afternoons is $59.00.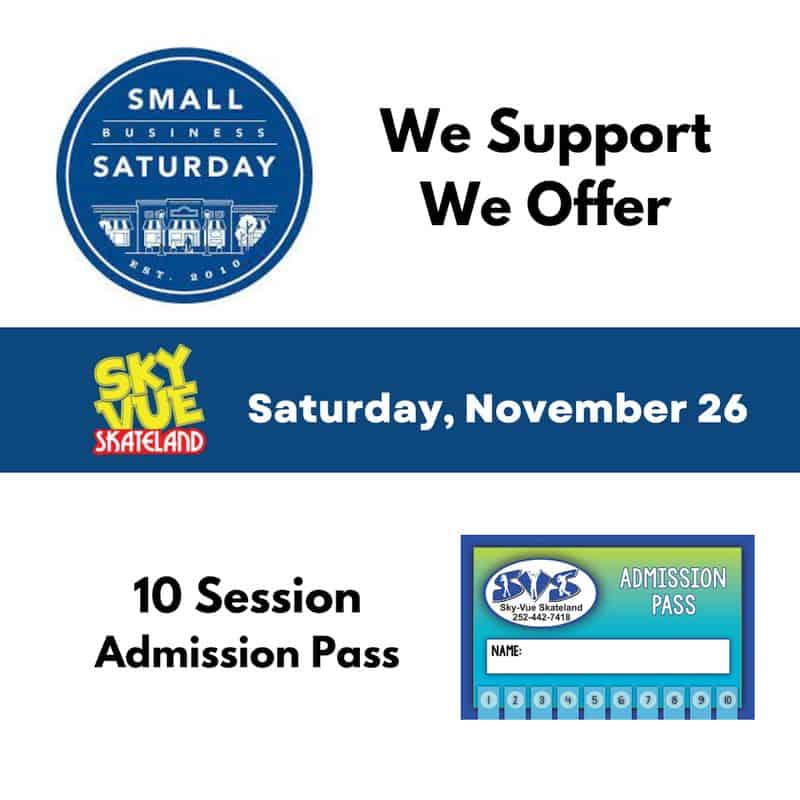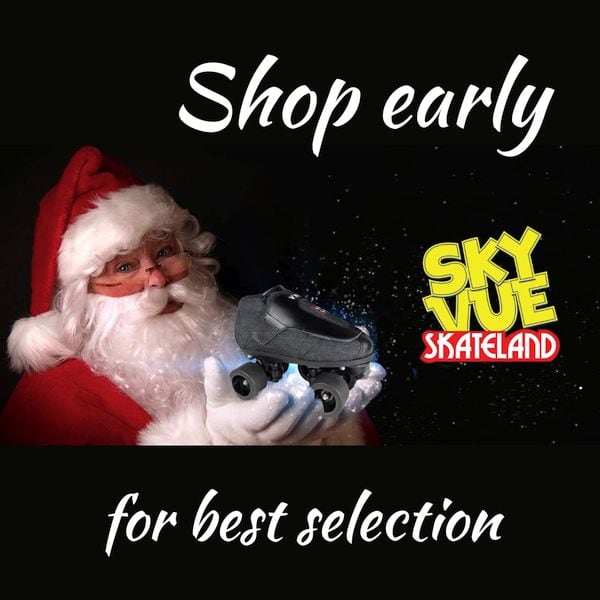 Think Christmas Now
Book your Christmas party with us. We can customize a special session for your business, organization, church, or family. Everyone loves to gather at the rink to celebrate—fun and games for everyone.
Does your skater want skates for Christmas? Check out our selection today. We offer a layaway plan. Skates are our business. We know how to fit your skater with the proper skates. We service what we sell. Your purchase helps us keep skating alive in Rocky Mount.
Birthday Celebrations
Skating birthday parties are always popular. Our celebrations are private rentals. Everyone loves having the rink for just their party. Book early to secure the date you want. Dates fill quickly because of cold weather.
Let Sky-Vue Skateland make your child's birthday extra special this year. We make memories that last a lifetime.
Click here to book your Skating Birthday Party online.
School Trips
Students love to come to Sky-Vue Skateland during the school day.
Our STEM Field Trip is educational and fun! It's a 3-hour program that includes 1 hour of STEM education including hands-on activities followed by 2 hours of physical education, and roller skating. Book now for your school to participate. Learn more about our STEM field trips here.
Skating is a fun reward for student accomplishment. We will open for a private 2-hour skating session for your students during school hours. Please reach out to Mrs. Denise to schedule your session. Please email her at denise@skyvueskateland or call 252-442-7418.