September skate Events at Sky-Vue Skateland
As school bells ring and routines fall back into place, we're still offering all fun things at the rink! Did you know some youth learn about the rink from their friends at school? The discussion usually begins on Friday mornings, making plans to meet at the rink for skating at 7 PM.
2nd Thursday Adult Sk8 September 14
Calling all adults to skate with us on the 2nd Thursday night of each month. This is your chance to rediscover the joy of skating, embrace the carefree spirit of your youth, and create memories that'll keep you smiling for weeks to come.
Doors open at 6:25 PM until 8:30 PM. Admission is $8, skate rental $4.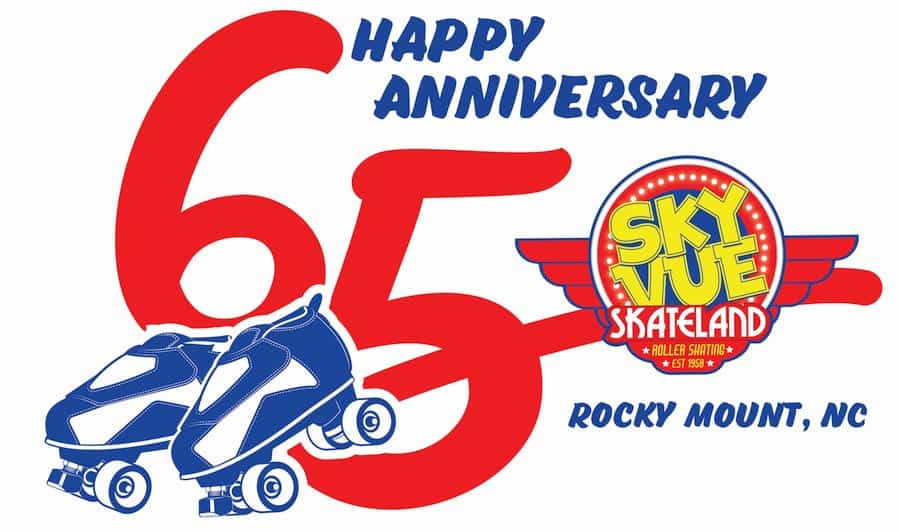 65th Anniversary Celebration
September 17
Join the fun around the rink as we travel back in time. All skaters, past and present, are invited to celebrate with us. Admission will be $1 and skate rental $4. Purchase a commemorative T-shirt for $17. Bring the whole family to this special occasion. Be sure to capture a picture in our photo booth. Invite your skate crew to meet you at the rink to reminisce about the good times at Sky-Vue Skateland. Check out the planned festivities here: https://skyvueskateland.com/anniversary-celebration/.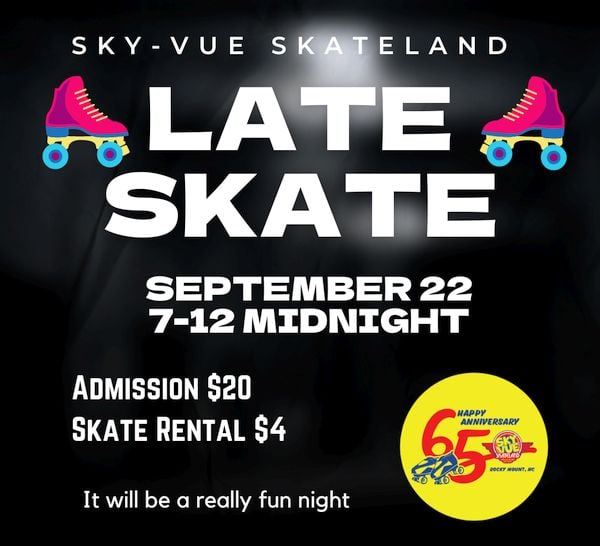 Back to School Late Skate September 22
Do you remember the days of the All Night Skate? Our late skate promises to be just as much fun but packed into our 5-hour session.
Admission for the event is $20 and skate rental is $4. If you can't stay late, you can still skate 7-10 PM for our regular admission charge. Skate the evening away from 7 PM until midnight on Friday night, September 22.
I promise after-hours fun from 10 PM until midnight!
---
Closed the weekend of September 29 & 30
We will be renovating our skate room and will be closed on Friday and Saturday evenings, September 29 & 30 to complete the project. We'll reopen on Friday, October 6 at 6:55 pm.
---
Looking ahead to October 2023
October 6 Hoverboard Session Returns
October 7 Skate and Play
October 7 Learn to Skate Classes
October 7 Saturday Afternoon Session returns
Remember to book your birthday parties online